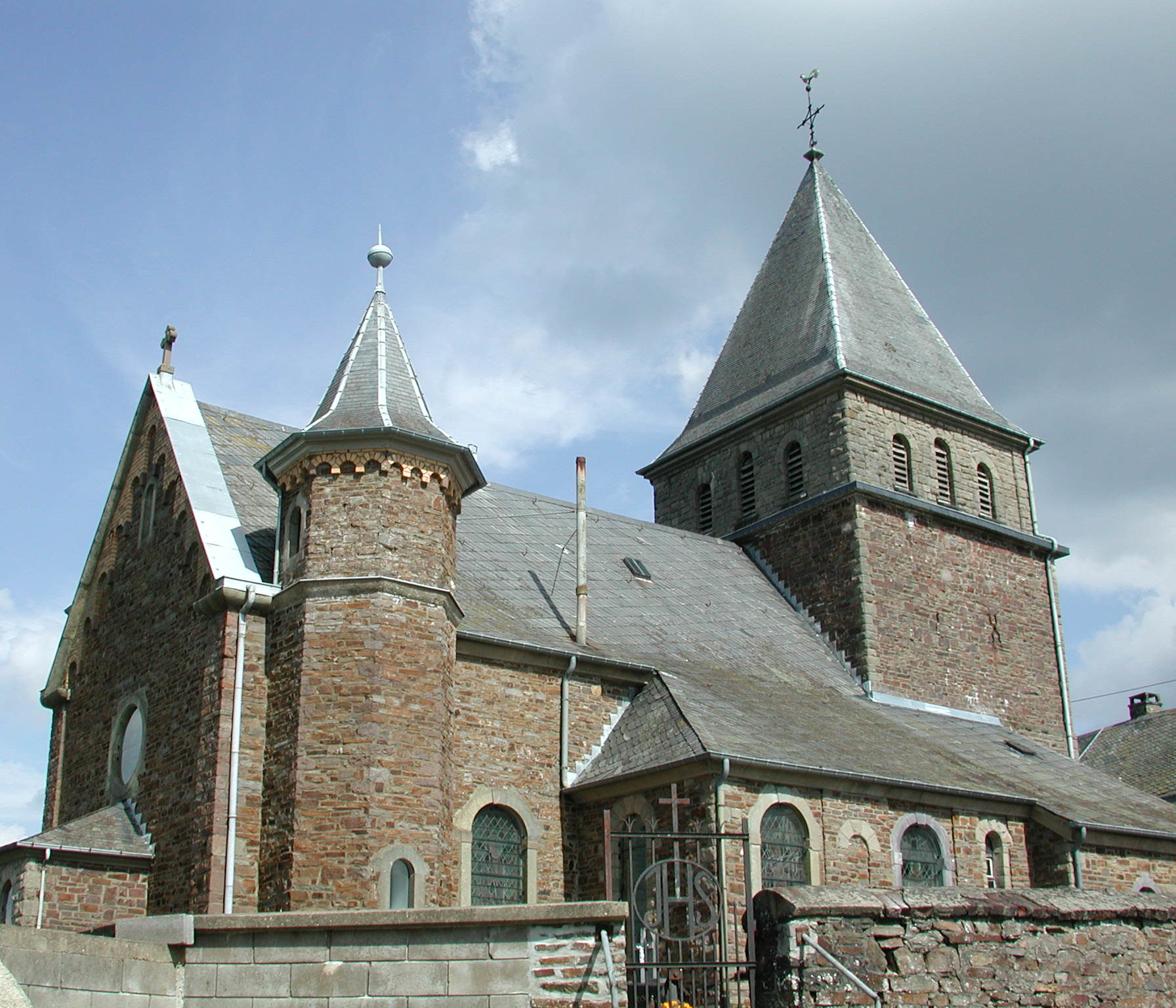 St. Peters parish church in Steffeshausen
The building history of the church, which is impressively situated above the Ourtal valley, is characterized by additions and alterations in 1565, 1776 and 1891. Parts of the tower and nave are said to date back to the 12th-13th centuries. The massive protruding south tower made of quarry stone has a late Gothic window and an arched window covered by the sacristy from 1776. The last renovation was carried out in 1935 by priest Ludwig-Joseph Lejoly.
The square floor plan is typical of Eifel churches. The masonry of unplastered quarry stone, which has been altered several times over the centuries, has three 19th century windows on both sides. On the north side there are again two walled Romanesque windows.
The main altar with its pillar structure dates from 1716 and contains a rare painting of Our Lady of Mount Carmel handing the scapular to Blessed Simon Stock. This motif is also shown on a medallion. There is also a list of a Marian confraternity "de Monte Carmelo" from the middle of the 18th century. The side altars are dedicated to the sacrifice of Melchizedech, the miraculous multiplication of the loaves and the statues of Our Lady with crown and globe as well as St. Sebastian. The main patron saint in the middle of the altar is St. Peter.
The communion bench and confessional were created in 1936 by the Raeren sculptor Leonard Mennicken.
Source: Churches and chapels in East Belgium by Freddy Derwahl and Johannes Weber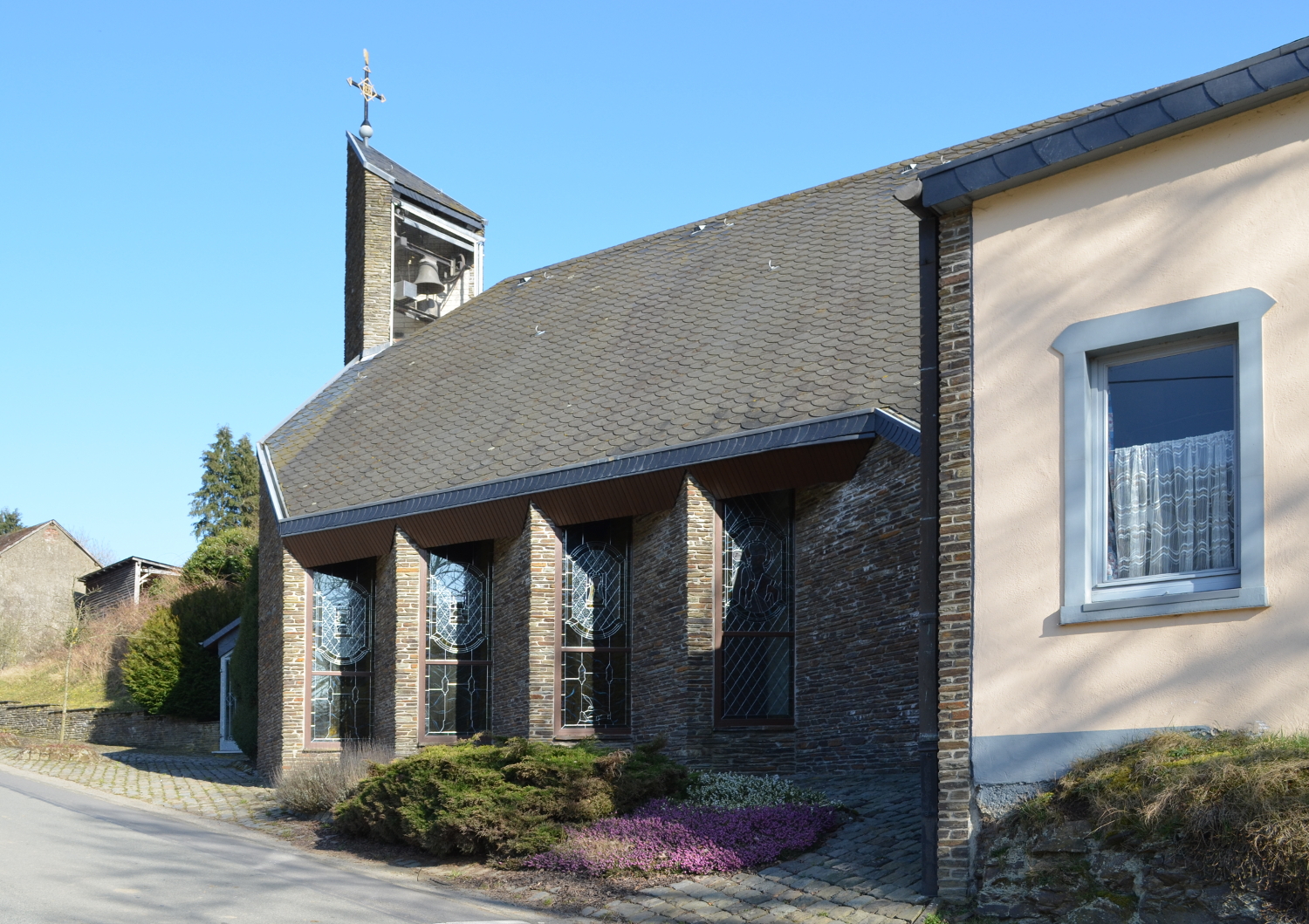 The Church of the Sacred Heart of Jesus in Steffeshausen
The church was built on the advice of the traditionalist bishop of Ecône, Marcel Lefebvre, and was consecrated in 1991 by one of his successors, Msgr. Tissier de Mallerays. The priest Paul Schoonbroodt, who was excommunicated in 1988, had previously held services in the old Latin rite in a makeshift chapel in the hall of an inn. With the help of numerous donations, a modern building in the symbolic shape of a nave was erected based on a design by Eupen architect Willy Emonts. Sturdy natural stone was chosen as the material. The Gothic high altar, communion bench, pulpit, statues of saints and paraments correspond in every detail to the ritual of the pre-conciliar liturgy.
Particular importance is attached to the veneration of the Sacred Heart of Jesus, the Immaculate Virgin of Fatima, St. Joseph and St. Philomena. The face of the figure of Christ corresponds to the features of the Shroud of Turin. Two stained glass windows with depictions of the holy popes Pius V and Pius X refer to "representatives of the church of all times" and a mass liturgy as an "unbloody renewal of the sacrifice of the cross".
A spiral staircase made of oak leads to the organ stage. At the covered entrance is a copper work depicting a resurrection scene as well as St. Caecilia with sheet music and organ.
Source: Kirchen und Kapellen in Ostbelgien von Freddy Derwahl und Johannes Weber