Parish church of the Three Kings in Oudler
The current parish church of Oudler dates back to the founding of the parish in 1924 and 1925 and illustrates an early striving for "self-assertion" in the context of the first affiliation to the Kingdom of Belgium. After persistent efforts and trilingual correspondence, the vicar and later pastor Gerard Schoenemakers, who came from the Netherlands, managed to obtain the long-refused permission from the then High Commissioner General Baltia.
The building on the road to Luxembourg, designed by the Malmedy architect Cnyrim, has a statue of Our Lady of Luxembourg in a side aisle, which is also venerated in Kevelaer. The patron saints of the parish are the Three Wise Men, who are depicted on the high altar and the altar table. Further Christmas scenes are shown on two paintings in the left side choir. The second patron saint is St. Celsus, who can be seen as the Bishop of Trier with a horse on a stained glass window in the choir and a statue. Stained glass windows are dedicated to the Holy Family, St. Michael the Archangel and St. Charles Borromeo. Next to the portal is an impressive painting of the 14 Holy Helpers. The church was thoroughly renovated in 2000.
The cross-border context of the church in Oudler, which is located on the old Roman road from Cologne to Reims, is also evidenced by the permission granted by Archbishop Clemens of Cologne in 1705 to build a vicar's chapel, which was located elsewhere in the village and was converted into a residential building on the road to Reuland in 1927. After the discovery of Roman building remains in 1824, several writings speculated about a "Templar monastery" near Oudler.
Source: Churches and chapels in East Belgium by Freddy Derwahl and Johannes Weber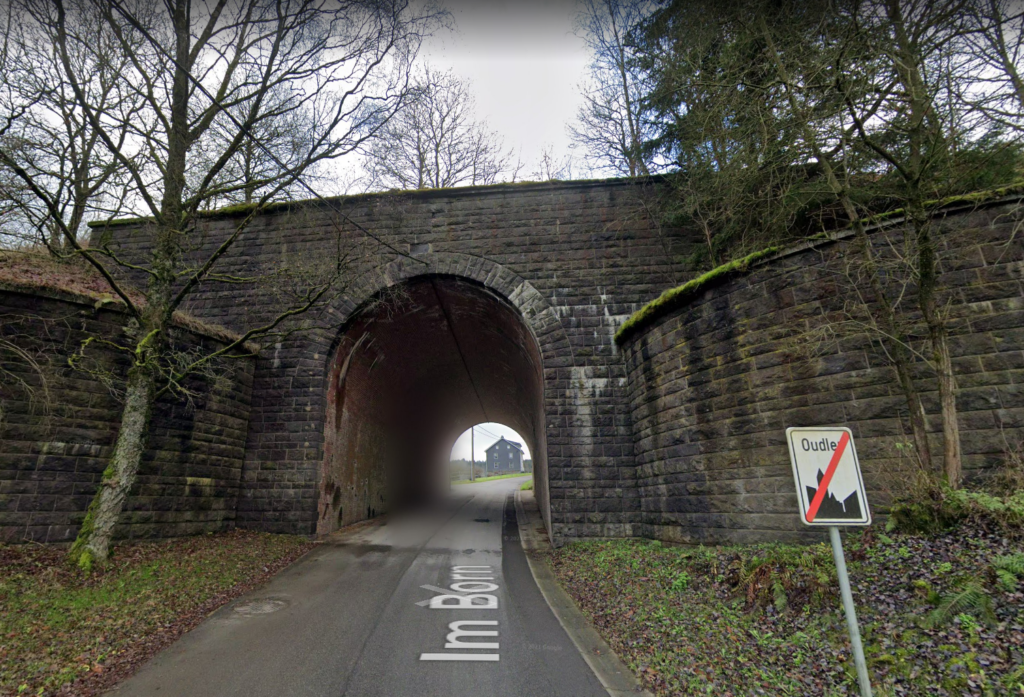 In 1888, the bridge and the station building – consisting of an apartment for the stationmaster, a waiting room and a ticket office – were built.
The railroad bridge was put into operation in 1889, providing a connection between Luxembourg and Belgium with intermediate stations in Reuland, Oudler, Lengeler and Wilwerdingen.
The St. Vith-Ulflingen line quickly gained economic importance, as the section connected the Ruhr area with Luxembourg and Lorraine. Coke was transported from the Ruhr region to the industrial centers in the south of Luxembourg and to Lorraine, where it was used to process and smelt iron ore. Iron ore was then exported back to the Ruhr in the opposite direction. The railroad supplied briquettes, animal feed and fertilizer, among other things, which the farmers picked up at Oudler station.
After the First World War, the coal trains were rerouted via German routes, so that only livestock and timber were transported here. In 1940, during the Second World War, the bridge was blown up by the Belgians to make it more difficult for the Germans to resupply, after which the Germans built a new wooden bridge. Passenger traffic on this route was discontinued in September 1944.