Die Kirche des hl. Wallericus in Espeler
Von der alten Kapelle aus der Zeit der Kaiserin Maria Theresia ist nach einem Neubau des Jahres 1780 der Turm erhalten geblieben. Er enthält u. a. eine Glocke mit der Jahreszahl 1373. Der Hochaltar der holzgetäfelten Kirche stammt aus dem 18. Jahrhundert, er zeigt in der Bildnische ein Relief der Auferstehung sowie im oberen Altarteil eine Figur des hl. Schutzpatrons Wallericus bzw. Wallerich.
Auf den beiden Seitenaltären stehen Altar Bilder der hl. Barbara und der Emmausjünger. Weitere hier dargestellte Heilige sind Gangolph, Quirinus, Antonius von Padua und St. Barbara, sie krönen die Altäre. Entsprechend der Konzilsreform wurde der Altartisch zu Beginn der 80er Jahre aus Teilen der ehemaligen Kommunionbank gefertigt. Die Kanzel mit Voluten und Rocaille-Ornamenten aus dem 18. Jahrhundert krönt der Erzengel Michael.
In Espeler wird im Dezember der Heiligen Barbara und Wallericus gedacht. Das Fest der Emmausjünger wird seit jeher am Ostermontag begangen.
Bron: Kerken en kapellen in Oost-België door Freddy Derwahl en Johannes Weber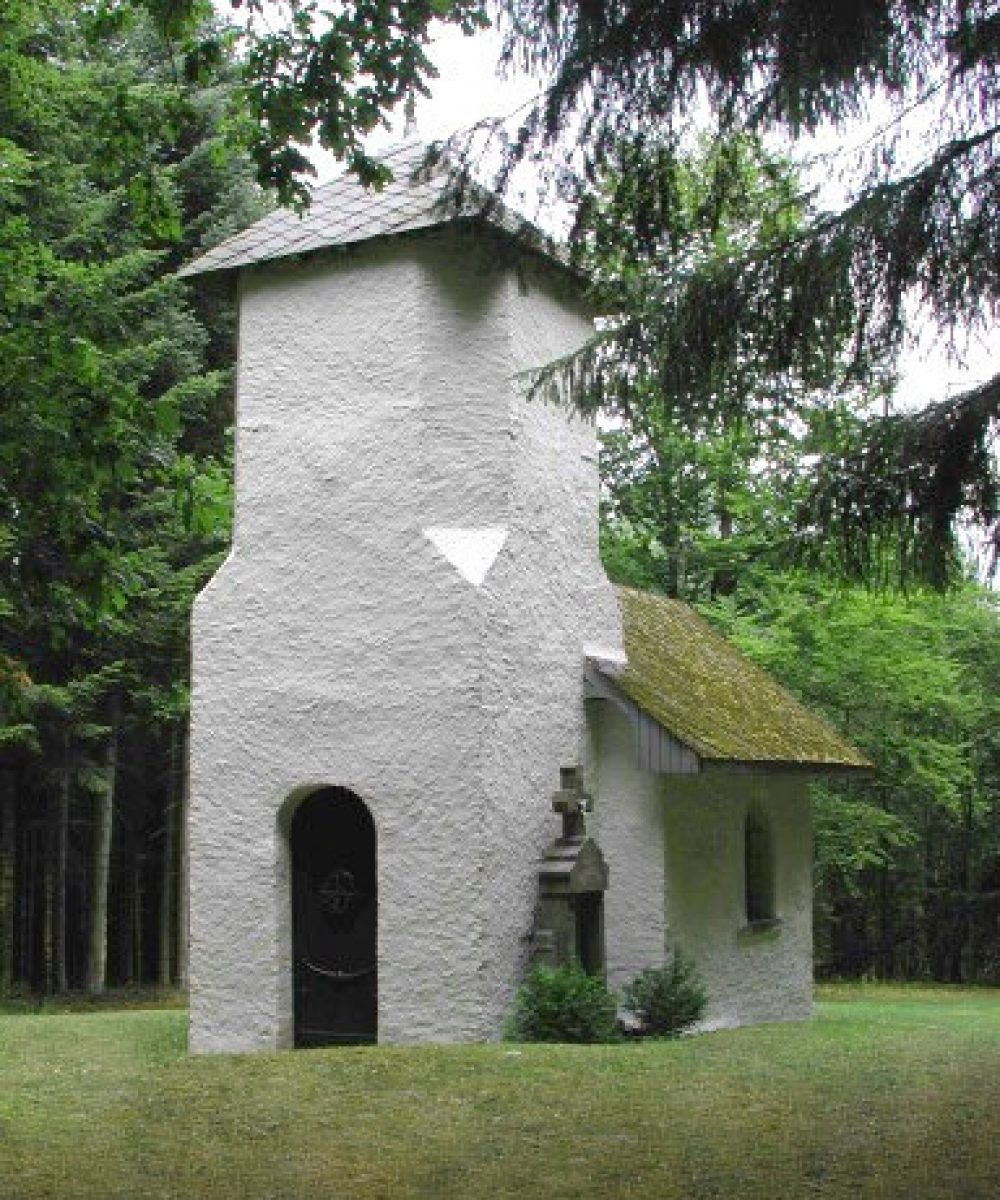 The "Steinemann", not far from Espeler, is the venerable Hubertus Chapel, a little off the beaten track in an extensive wooded area. It was built 120 years ago as a result of a private pledge.
The "Steinmann" adorns the flag of the music association.
The chapel was completed by the Espel resident THEISS-BREUER Johann in 1882 as a thank you for the "divine grace" shown to him for a successful surgical operation on his wife. Ms. Margarethe THEISS-BREUER had health problems and had to undergo a serious operation for the circumstances at the time.
This area has aroused the minds of historians and genealogists since ancient times and so it is not surprising that Roman finds have repeatedly been made in the vicinity of the chapel over time, as this area was criss-crossed by Roman or even pre-Roman roads.
At this point there was a place name "Am Eilfsstein" i.e. at Ulfstein and now we know where the romantic Eulenstein on the way from Espelermühle to Oudler comes from. It has nothing to do with owls and takes its name from "Ulfbach".
If you leave the road from Oudler to Thommen and follow a dirt road to the left, you come to a hill from which you can enjoy a wonderful view over hills and valleys. If you cross fields and meadows on roadways, you come to a group of trees, the preservation of which is thanks to a farmer who defies the trend of land consolidation and takes the trouble to maneuver the tractor and plow around this "obstacle".
The adjoining pastures border on a spruce forest and once you have them behind you, you are faced with a natural beauty of rare value. The "owl stone" and on the rocky slope, cartilaginous oaks grow wildly together. The "Owl Stone" is a unique natural formation in our area and is a listed building.
A worthwhile destination for nature lovers.